Your Internet Radio Station Online 24/7 Day and Night:
---
SA-Radio.com is an online directory of streaming online and on air radio stations in South Africa. Here we provide and catalogue the spectrum of broadcast and internet radio and music stations with various genres that are available on the web and on air. We focus at making it easier for the people who are looking for appropriate music or radio stations to find them amongst the highly competitive and sometimes confusing online search and radio dial. Our goal is that tuning to your favorite stations online or on air should be easy, fun and enjoyable.
We know and respect the rights of the content owners. Links to external sites are opened in a new window to either the appropriate media player, or to the content site where possible.
We are still working to help users find their groove and give users a better experience to interact with our sites and we always encourage you to report any problem of any station. You also can contribute to our directory by submitting new radio stations in your area for inclusion in our directory.
Also, stay tuned to our site and spread our links to social media and to your friends.
SA-Radio.com is constantly developing and we are also in the process of improving and fixing things as we improve the platform. We appreciate your valuable support, suggestions and feedback:
Contact Us Here / Kontak Ons Hier 
---
Radio broadcasting in South Africa is divided into three categories: public, commercial and community radio.
Public radio is all the radio stations belonging to the ANC government controlled public broadcaster, the South African Broadcasting Corporation (SABC), and this includes RSG, the Afrikaans public radio service.
Commercial radio services are owned by private companies that operate these services for profit. This category includes, for example, OFM, Jacaranda, 947 and Highveld Stereo. These services also have more than one transmitter and serve a wider audience.
Community radio has one frequency and a transmitter and serves a smaller interest group. There are currently more than 200 community radio stations in South Africa.
Community radio originated after the Independent Broadcasting Authority of South Africa (IBA) currently ICASA, established under Act 153 of 27 October 1993, as amended by the current ANC government, restructured the total broadcasting industry in South Africa.
Internet radio does not fall under government control and with the move to digital in the future, internet radio or streaming has become firmly established and SA-Radio.com aims to facilitate this transfer process.
---
To listen on your computer click:  (HTML/Flash Player) Om te luister op jou rekenaar.
---
Click to listen with VLC player. Om te luister met VLC Player 
---
Click to listen with Mediaplayer te luister kliek hier.
---
Tap here to listen on BB, iPhone of Nokia te luister kliek hier of www.SAUK.mobi
---

---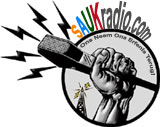 ---
---
3FM Radio Frequencies:
92.3
92.3fm
100 – 104 FM
702 Talk Radio – 92.7 FM Johannesburg
Radio Veritas – FM 92.7 – Edenvale
Revival Fm 92.7 – Kimberley
92.3FM
94.3FM
102.3FM
567AM
657AM
94-97-1 FM
94-97-2 FM
Cape Talk
---
Find mates, dates, friends, partners, pals, husbands, wives, girlfriends, boyfriends, single ladies, single guys, women, men, etc. at SAmatch.com Dating Service
---
---